Difficulty Rating:
I know! I know. It's been forever. I know. Please don't hate me. I have, like, three things to post up, and will do so soon, my lovelies. I promise. In the meantime, here is some delicious bread to take your mind off it. :D
Recipe
1 2/3 cups Self Rising Flour
1 tsp Cinnamon
1 c + 2 tbls Sugar
2 eggs
1/2 c vegetable oil
3 1/2 overripe bananas, mashed
1 tsp vanilla extract
2 tbls sour cream
Preheat oven to 350 degrees and grease a breadpan. Mix flour and cinnamon and set aside. Mix bananas, sour cream, and vanilla and set aside.
In a bowl, whisk together sugar and eggs for ten minutes. Slowly whisk in oil. Stir in banana mixture. Add flour mixture. Pour into breadpan and bake 45-60 mins depending on oven. Let cool ten minutes before serving.
Execution
I mean, just look at that recipe. So easy! Let's get to it!
Ingredients
Get the oven and pan ready. Once again, I use Crisco to grease things because it makes them extra delicious. As you can see from the picture, I already dumped the cinnamon into the flour, so no big deal there.
Then mash up your bananas with either a handheld potato masher or a fork - they're overripe, so this should be really easy.
Add in the sour cream and vanilla and mix it all up into a gooey mess, then put it aside.
Now comes the arm-killing part. Whisking. Ugh. Add the eggs in with the sugar...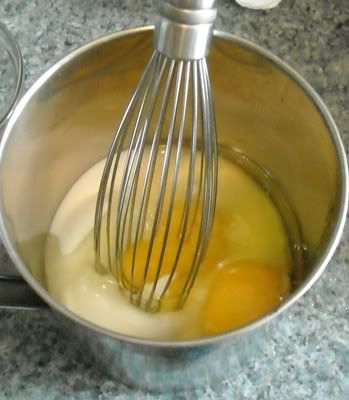 ...and then spend the next ten minutes wishing you'd worked out more. Seriously, nothing makes you feel more like a loser than realizing how weak of a whisker you are. But do it! Ten minutes! Time yourself, you gotta get it all delicious!
Then just slowly drizzle the oil in and whisk it. I usually just dump a little in and then whisk, repeat repeat repeat. For a 1/2 cup of oil, it should take you about six or seven rounds. When you're done, it'll be all shiny like pearls. Preeeeeetty.
Now dump that in with the 'Naner mixture and stir it up good.
And then dump the flour in and mix it. It won't get thick like dough; it'll still be way more like cake batter than bread dough, as seen below when I poured it into the breadpan:
Throw that sucker in the oven and bake it for 45-60 minutes. My oven only takes 45 minutes because it cooks like a
boss.
When you pull it out, take a moment to enjoy the golden deliciosity of it all!
Mmmmm. I am an asshole, and wanted some RIGHT NOW so I cut into it immediately. Which is why in this picture you can see both the steam coming off of it, and also how it slumps a little once it's cut - that's because I didn't give it time to settle and solidify. Don't do like me. Unless, like me, you don't give a damn what it looks like and just want the nummy in your belly.
If you're feeling especially fond of fatassery, put a smidge of butter on it while it's still hot. You'll thank me for it. I promise. :D